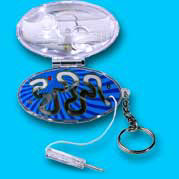 Sea-Monkey Aqua-Maze™
Here's another fun way to take your favorite little pets for a day out.
The Aqua Maze is two toys in one! The tank side is a mini-aquarium that can hold one or two adult Sea-Monkeys for 12 to 24 hours (then transfer them back to their home tank), and the other half is a cool electronic game to delight and "a-maze" you and your friends whenever you need a little diversion.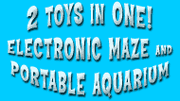 INCLUDES: keychain, Aqua Leash, Calibrated Feeding Spoon and everything you need to grow Sea Monkeys (Water Purifier, Instant Live Eggs, and Growth Food). Requires two 1.5-volt button cell batteries (included).
Ages 6 and up.
Ad blocker interference detected!
Wikia is a free-to-use site that makes money from advertising. We have a modified experience for viewers using ad blockers

Wikia is not accessible if you've made further modifications. Remove the custom ad blocker rule(s) and the page will load as expected.