Item No. 69
Sea-Monkey Banana Treat ...$4.00
While it's true that "monkeys" like bananas, Sea-Monkeys are no exception. So here's a TREAT for your favorite pets and a wonderful way to REWARD them for the FUN they give you! A long-lasting supply of tasty "dessert" for your aquatic pets that rovides health-giving vitamins, minerals and LOVE!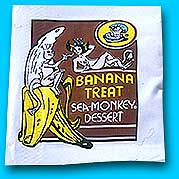 Ad blocker interference detected!
Wikia is a free-to-use site that makes money from advertising. We have a modified experience for viewers using ad blockers

Wikia is not accessible if you've made further modifications. Remove the custom ad blocker rule(s) and the page will load as expected.