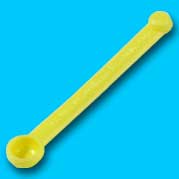 Calibrated Feeding Spoon
Neon yellow calibrated measuring spoon for your pets. A large scoop on one end is used for measuring Plasma, the small scoop on the other end is used for measuring Growth Food.
There is no better way of making sure that your pets get just the right amount of food!
Ad blocker interference detected!
Wikia is a free-to-use site that makes money from advertising. We have a modified experience for viewers using ad blockers

Wikia is not accessible if you've made further modifications. Remove the custom ad blocker rule(s) and the page will load as expected.