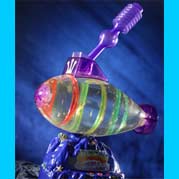 Explor-A-Sub™
Explore undersea secrets with your salty crew of Instant Pets®
Sea-Monkey® mariners are getting to the bottom of things in this deep-sea, state-of-the-art submersible. Just add water to hatch a crew of real, live aquanauts that quickly grow to adulthood. These tiny sailors seem to obey the commands that YOU send with radiant rings of glowing light.
FEATURES •Built-in bubbler for aerating the water •Two lights to direct Sea-Monkey movement •Two fun sound effects buttons •Three colorful neon rings create an amazing light show that you control •Quality crafted aquarium enhances your Sea-Monkey experience •Battery-operated •Try-me package
INCLUDES everything you need to start your tank: • Water Purifier • Instant Live Eggs • Growth Food •Built-in bubbler •Calibrated Feeding Spoon •Instructions •Three AAA batteries (for demo purposes only)
Ages 6 & up
Ad blocker interference detected!
Wikia is a free-to-use site that makes money from advertising. We have a modified experience for viewers using ad blockers

Wikia is not accessible if you've made further modifications. Remove the custom ad blocker rule(s) and the page will load as expected.