The Amazing Live Sea-Monkeys® Ghostly Galleon™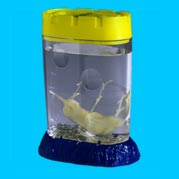 Only the bravest Sea-Monkeys dare to set sail on the haunted Glow-in-the-Dark!
FEATURES: •"Oceanic Searchlight" for up-close, night-time viewing - Requires two AAA batteries (not included) •"Oceanic Searchlight" can be used to "energize" the glow-in-the-dark galleon •Glow-in-the-dark Sunken Galleon shines for hours after exposure to light •GUARANTEED TO LIVE 2 FULL YEARS
INCLUDES: • Non-toxic, phosphorescent Sunken Galleon • Million BubbleTM Water Oxygenator • Water Purifier • Instant Live Eggs • Sea-Monkeys Growth Food • Super-Conditioning Plasma III Formula • Aqua-Leash • Calibrated Growth Food Measuring Spoon • Easy-to-follow instructions
Ages 6 & up
Ad blocker interference detected!
Wikia is a free-to-use site that makes money from advertising. We have a modified experience for viewers using ad blockers

Wikia is not accessible if you've made further modifications. Remove the custom ad blocker rule(s) and the page will load as expected.