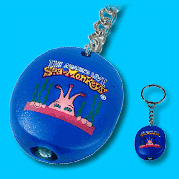 The Sea-Monkeys Keychain
It multitasks!
• A beautiful Blue, soft grip key chain with LED Light.
• Keeps a strong grip on your keys.
• Brightens your world with a bright red glow.
• The LED lasts for years and batteries are replacable.
• Show the World you're in the swim with a Salty Simian.
• Can be used to hypnotize lower orders of life.
• Send Morse Code SOS (... --- ...) and save a life!
Ad blocker interference detected!
Wikia is a free-to-use site that makes money from advertising. We have a modified experience for viewers using ad blockers

Wikia is not accessible if you've made further modifications. Remove the custom ad blocker rule(s) and the page will load as expected.