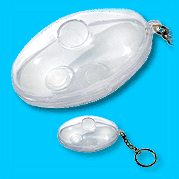 This scientifically designed and tested temporary mobile motel for your
Sea-Monkeys
is a most convenient way to transport your pets. It is one of our most compact portable Sea-Monkey homes...small enough to fit in your pocket. It is designed to safely hold several Sea-Monkeys on either side for up to 24 hours. The strong key chain will allow you to securely hang the Life boat from your back pack or your belt loops. In relative terms, your Sea-Monkeys find the Life Boat to be equivalent to an Olympic sized swimming pool!
Use Aqua Leash to transfer your Sea-Monkeys safely to the Life boat.
Ad blocker interference detected!
Wikia is a free-to-use site that makes money from advertising. We have a modified experience for viewers using ad blockers

Wikia is not accessible if you've made further modifications. Remove the custom ad blocker rule(s) and the page will load as expected.