Magi-Quarium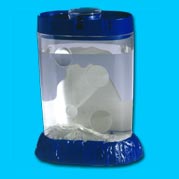 When the lights go off, the fun stays on, without bulbs, batteries or electricity!
Sea-Monkeys love the night life and their unique "positively phototaxic" bodies, actually cause them to glow like fireflies! Just expose the MagiQuarium to any light source for a quick "charge" and the habitat will glow in the dark for hours!
FEATURES: • Non-toxic • No batteries required • Phosphorescent base and Magnifying Aero-Vent Tank Cover glow for hours after brief exposure to light
ages 6 & up
Ad blocker interference detected!
Wikia is a free-to-use site that makes money from advertising. We have a modified experience for viewers using ad blockers

Wikia is not accessible if you've made further modifications. Remove the custom ad blocker rule(s) and the page will load as expected.