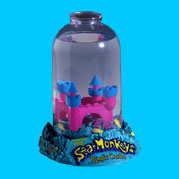 The Amazing Live Sea-Monkeys® Magic Castle™
Explore the mystical realm of the Sea-Monkey Magic Castle!
Watch your Sea-Monkey subjects grow, dart and dance while frolicking through majestic arches and towering turrets adorning this Magic Castle.
FEATURES: • Crystal clear magnifying lid allows a better view of the royal grounds • Detailed landscape creates an enchanted playground for Sea-Monkeys • A great gift idea for Sea-Monkey fans of all ages
INCLUDES: • Enchanting Magic Castle Tank • Magnifying Aero-Vent Lid • Water Purifier • Instant Live Eggs • Sea-Monkeys Growth Food • Super-Conditioning Plasma III Formula • Calibrated Growth Food Measuring Spoon • Aqua-Leash • Easy-to-follow instructions • 2 YEAR GROWTH GUARANTEE • Sea-Monkeys Life Insurance Policy
Ages 6 & up
Ad blocker interference detected!
Wikia is a free-to-use site that makes money from advertising. We have a modified experience for viewers using ad blockers

Wikia is not accessible if you've made further modifications. Remove the custom ad blocker rule(s) and the page will load as expected.