Item No. 68 (out of stock)
Sea Medic Sea-Monkey Medicine ...$4.00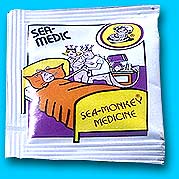 A MUST for emergencies if sickness strikes. "Sea-Medic" is the ONLY medicine available for Sea-Monkeys. It kills oxygen-depleting bacteria in their water without harming the Sea-Monkeys. It can CURE afflicted Sea-Monkeys if given IN TIME! Keeping "Sea-Medic" on hand if needed in a hurry is almost as good as having a team of Sea-Monkey doctors standing by in the E.R.
Ad blocker interference detected!
Wikia is a free-to-use site that makes money from advertising. We have a modified experience for viewers using ad blockers

Wikia is not accessible if you've made further modifications. Remove the custom ad blocker rule(s) and the page will load as expected.