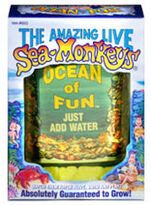 What's more fun than a tank full of Sea-Monkeys ? A bright, Day-Glo™ Yellow tank full of Sea-Monkeys!
INCLUDES:
• Neon "Sea-Fire" Aero-Vent Tank and Cover
• "Sea Diamonds"
• Water Purifier
• Instant Live Eggs
• Sea-Monkeys Growth Food
• Calibrated Feeding Spoon
• Easy-to-follow instructions
• 2 YEAR GROWTH GUARANTEE
• Sea-Monkeys Life Insurance Policy
Ad blocker interference detected!
Wikia is a free-to-use site that makes money from advertising. We have a modified experience for viewers using ad blockers

Wikia is not accessible if you've made further modifications. Remove the custom ad blocker rule(s) and the page will load as expected.