Port-A-Pet™
Take up to six of your favorite pet Sea-Monkeys® out for a walk or to "show off" anytime, anywhere! A new, UNIQUE One-Of-A-Kind POCKET AQUARIUM with A MAGNIFIER that runs on a track, it follows Sea-Monkeys® while they swim. An oversize plastic clip secures it to your belt or pocket. Airways in the cover give full "overtime" protection. An AQUA-LEASH™ is an IDEAL way to transfer them from their aquarium to the POCKET PLAYPEN and back.
Includes:
Portable Tank & Ventilated lid.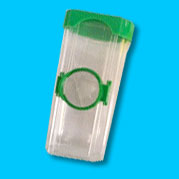 Ad blocker interference detected!
Wikia is a free-to-use site that makes money from advertising. We have a modified experience for viewers using ad blockers

Wikia is not accessible if you've made further modifications. Remove the custom ad blocker rule(s) and the page will load as expected.