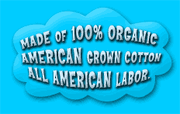 Sea-Monkey Lovers T-Shirt
All Materials made and grown in the USA. Preshrunk 100% organic cotton. All American labor.
Available Sizes: S, M, L, & XL.
Color: Natural White. Sea-Monkey Lovers T-shirts were inspired and created out of a heartfeld desire, and intention, to support the preservation of our beloved Mother Earth. Only Organically grown cotton is used in the making of these T-shirts. This means You are an important part of the critical and Beautiful movement to SAVE our PLANET!
Profits from Sea-Monkey Lovers T-shirts go to support the preservation of beautiful Montrose Wildlife Sanctuary and Forest, the Home of the Amazing Live Sea-Monkeys.
Ad blocker interference detected!
Wikia is a free-to-use site that makes money from advertising. We have a modified experience for viewers using ad blockers

Wikia is not accessible if you've made further modifications. Remove the custom ad blocker rule(s) and the page will load as expected.