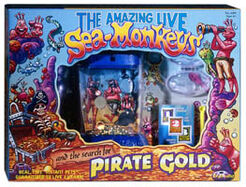 "YOHOHO a bottle of rum on a dead man's chest..." NOT!
Our wonderful, G-Rated Sea-Monkeys are non-violent, salt-water swilling sweeties but they do love gold bullion!
INCLUDES:
• Water Purifier • Instant Live Eggs
• Growth Food
• Aquarium tank
• Aero-vent Aquarium cover
• Magnifier lid
• Calibrated Feeding Spoon
• Port A Pet life boat key chain
• Aqua Leash • Illustrated Instructions
• Free Handbook offer
Ad blocker interference detected!
Wikia is a free-to-use site that makes money from advertising. We have a modified experience for viewers using ad blockers

Wikia is not accessible if you've made further modifications. Remove the custom ad blocker rule(s) and the page will load as expected.