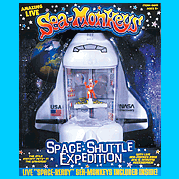 Space Shuttle Expedition
For over 40 years, Sea-Monkeys have always had the Right Stuff! Everyone knows Sea-Monkeys are experience time-travelers, but did you know they've also traveled to outer space? Sea-Monkeys have been safely used in several NASA microgravity experiments and over 400 million of them have flown with John Glenn!
FEATURES a built-in red LED "cockpit" light for night flying, a sturdy tank based on NASA Space Shuttle Discovery design, built in Water Oxygenator. Requires two AAA batteries (not included).
INCLUDES everything you need to start your tank: • Water Purifier • Instant Live Eggs • Growth Food • Calibrated Feeding Spoon • Plasma III • Illustrated Instructions • Life Insurance Policy.
Ages 6 & up
Ad blocker interference detected!
Wikia is a free-to-use site that makes money from advertising. We have a modified experience for viewers using ad blockers

Wikia is not accessible if you've made further modifications. Remove the custom ad blocker rule(s) and the page will load as expected.