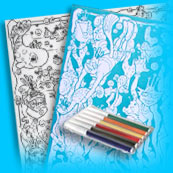 Velvet Doodles™
What can be almost as much fun as watching sea-monkeys swim? Coloring a sea-monkey poster of course! The velvet Doodle by Trends inc. comes with two 16"x20" posters, one in velvet and other regular.
The images are depictions of happy Sea-Monkeys doing cool activities as well as creatures you might come across in the sea-monkey world. So what makes a creature from sea-monkey world different from the other worlds? The Antennas you silly! Contains:
One velvet poster 16" x 20.125" One regular poster 15.875" x 20" Six coloring markers
Ad blocker interference detected!
Wikia is a free-to-use site that makes money from advertising. We have a modified experience for viewers using ad blockers

Wikia is not accessible if you've made further modifications. Remove the custom ad blocker rule(s) and the page will load as expected.