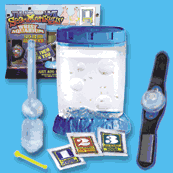 Surprise your friends and take the world's most fun pet with you wherever you go!
What a cool way to take your sea-monkey pets along with you. Grow your Sea-Monkeys in the tank and then transfer them into this cool wrist-Aquarium and let them accompany you in all your adventures, share your amazing pets with your friends, watch them close up as they frolic around in this beautifully designed high tech environment.
FEATURES: • Hi-Tech Wrist-Aquarium is totally water proof • Unique portable Aquarium is a rugged water-filled bubble that holds several Sea-Monkeys for up to 12 hours (then transfer them back to their home tank) INCLUDES: • Portable wrist aquarium • Water Purifier • Instant Live Eggs • Sea-Monkeys Growth Food • Calibrated Growth Food Measuring Spoon • Aqua-Leash • Easy-to-follow instructions • 2 YEAR GROWTH GUARANTEE Ages 6 & up
Ad blocker interference detected!
Wikia is a free-to-use site that makes money from advertising. We have a modified experience for viewers using ad blockers

Wikia is not accessible if you've made further modifications. Remove the custom ad blocker rule(s) and the page will load as expected.